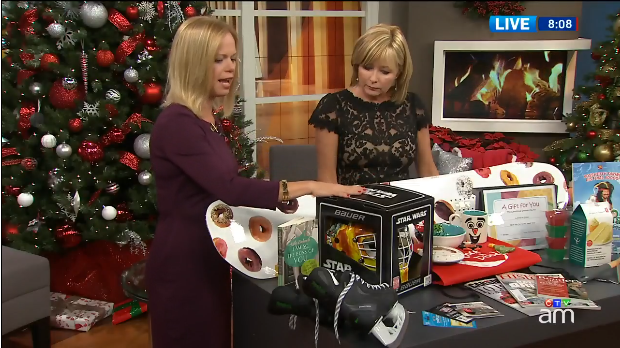 Christmas can add a lot of stress for busy parents as they try to find that perfect gift for their children, of all ages.
But instead of immediately thinking about toys – practical, digital, virtual – consider giving them a gift which will make them healthier, happier and more connected to you, long after the batteries have run out of the "real siren sounds" fire engine.
According to a recent PCFinancial research study, Canadians spend between $500 and $1,000 on gifts for their family; that's a lot of money so choosing carefully definitely matters. Consider these ideas when thinking about non-toy gifts for your kids.
Give the gift of reading. Books are always great to give, but some kids prefer reading materials that are more visual and topical. Consider a magazine subscription focused on one of their interests.
Sporting equipment is always a good choice. Have you been meaning to get the family out snowshoeing? Make it a family gift and plan an outing as part of the present.
Taking your kids out to a play or musical event is not only a great way to build memories, but also to introduce them to the wonder of live theatre and the arts. Choose an age appropriate production so as not to scare them off for future outings. A Christmas panto such as Ross Petty's "Peter Pan" (in Toronto) is a great first time theatre event for many kids.
Professional sporting events are expensive, but can make for a once-in-a-lifetime occasion for that staunch Calgary Flames or Toronto Raptors fan in your family. Search for discount tickets or ask around with friends and family.
Painting pottery is gaining in popularity, not only because of the creative side it brings out, but also the family bonding time that happens when you're sitting together and getting your art side on. The giving of a piece of pottery completes the circle of creativity.
Kids love to cook and bake, but often we're pressed for the time required to pull it off. Think about setting up a family baking session, or look into having a chef come to your house to give everyone a lesson. Many grocery stores also offer cooking classes specifically geared for kids.
Hard to buy for? Gift cards for experiences (movies, restaurants, spas) are a fantastic gift for teenagers who can get out on their own and try something new. Cash in your PCPlus points for gift cards for extra savings.
What do kids want at home? Control. When do they get it? Hopefully not often, so give some back by creating gift certificates for choosing the family dinner, getting a ride to school when they don't "need" one, or even getting to own the family computer or TV for one night a week. Let them pick family dinner and maybe suggest to them something that they love, and their siblings don't.
—–
Kathy Buckworth is an award winning writer, public speaker and television personality. She is the author of six books, including "I Am So The Boss of You: An 8 Step Guide to Giving Your Family The Business".
This article first appeared in canadaam.ctvnews.ca and can be found at this link:
http://canadaam.ctvnews.ca/am-extras/gifts-for-kids-thinking-outside-the-toy-box-1.2702262